Criterion has been making traditional dairy ices since 1920 and has long been judged as providing the finest ice creams.

A PASSION FOR EXCELLENCE
Our passion for excellence has helped us become suppliers to some of the UK's most prestigious establishments including The National Trust, many theatres in London and across the country and a host of restaurants.
Criterion Ices, a legacy that began in 1920, bears the proud heritage of James Alfonso Valenti, the son of Italian immigrants. Nestled in Sydenham, Southeast London, near the iconic Crystal Palace, he laid the foundation for a timeless tradition. Starting with a cozy parlor, he soon expanded, sending out street traders with barrows, trikes, and even a horse and cart, all laden with his cherished ices. The innovation didn't stop there; James constructed his very first ice cream van using a Model T Ford chassis. Today, Jim Valenti, James' grandson, continues to be the face of the brand, serving as our sales consultant and preserving the enduring legacy of Criterion Ices.
In 2023, we started a new chapter of our story and moved our production from Suffolk to a state-of-the-art production facility in Leeds.
Our traditional dairy ices however are still being made to our high standards in the same way, using fresh double cream, our tangy fruit sorbets contain only the best quality fruits, and our refreshing yogurt ices are made with live natural yogurt and subtle fruit flavours.
In fact, we pioneered the development of yogurt ices in the UK as early as 1986. They offer a unique combination of clear fruit tastes with an appealing yogurt tang, are low in fat and are exceedingly refreshing.
We pack some 40+ different mouth-watering flavours: in 130ml individual tubs, perfect for theatres and quick on-the-go service and 5 litre Napolis for scooping and foodservice.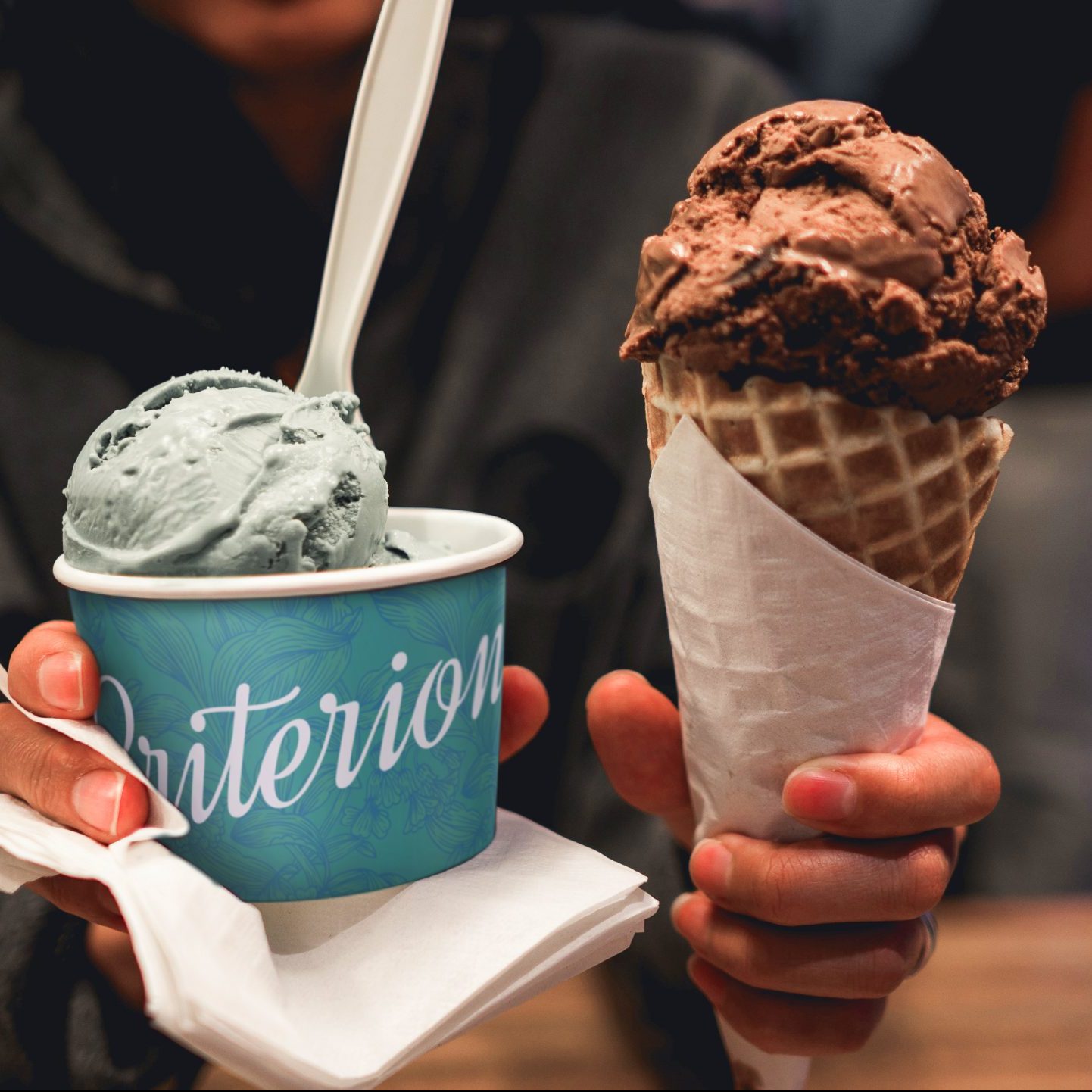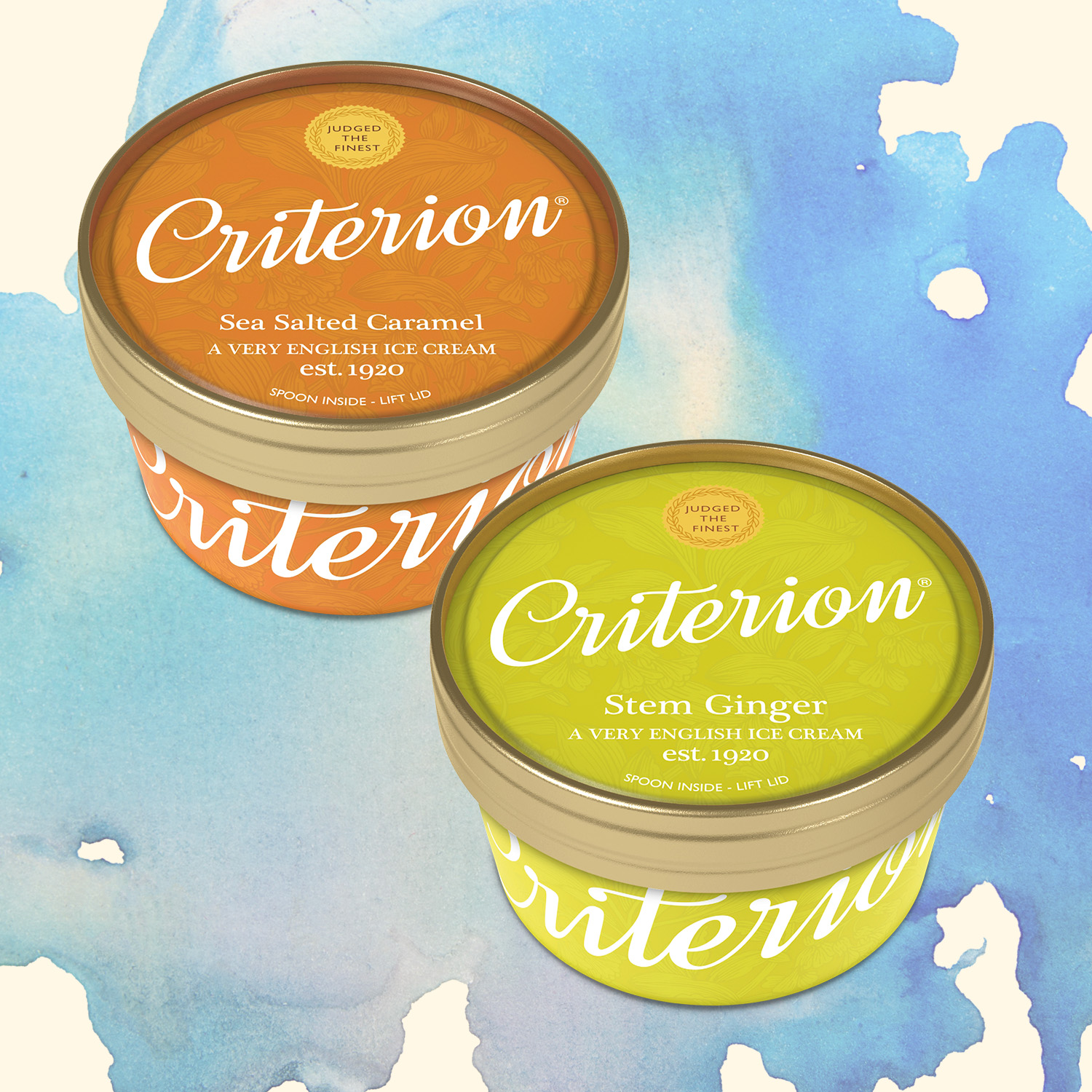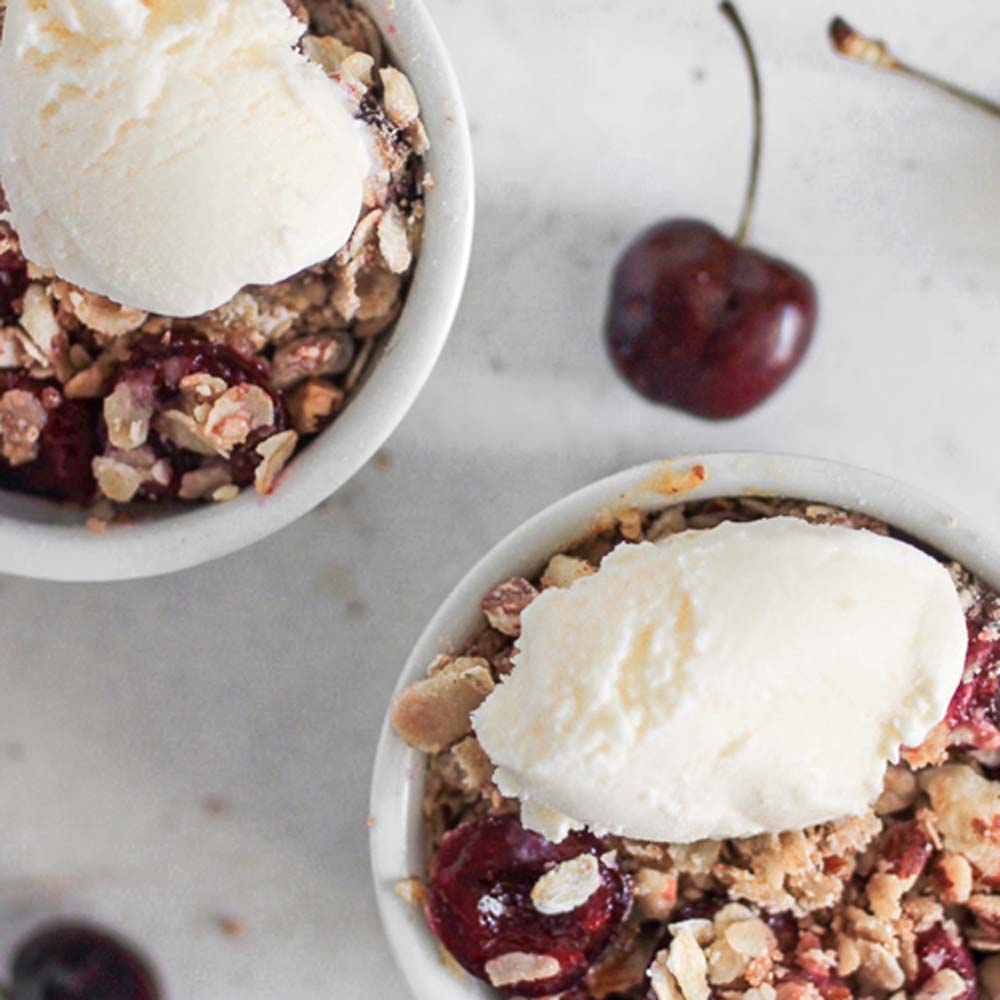 Criterion Ices are the ultimate choice for restaurants and scooping parlours looking to elevate their dessert offerings. Packed in convenient 5-litre napolis ready for service, these delectable frozen treats come in a wide range of classic and crowd-pleasing flavours. From velvety chocolate to refreshing mint choc chip, there's a flavour for every palate. With Criterion Ices, you can effortlessly add a touch of sweetness and sophistication to your menu, ensuring your customers keep coming back for more. It's the secret ingredient to turning an ordinary dining experience into an extraordinary one.
Premium Ice Cream 5L Napolis
Cookies & Cream
Rich Vanilla with Pods (Gold Medal Vanilla)
Salted Caramel
Ferrari Rocher
Mint Chocolate Chip
Dark Chocolate with Pieces
Strawberry with Pieces
Chocolate Fudge
Pistachio
White Chocolate
Honeycomb
Coffee
Rum & Raisin
Hazelnut
Coconut
Raspberry Ripple
Banana & Butterscotch
Toffee Ripple
Stem Ginger
Premium Sorbets 5L Napolis
Lemon Sorbet
Alphonso Mango Sorbet
Standard Ice Cream 5L Napolis
Vanilla
Chocolate
Banana
Strawberry
Mint Choc Chip
Blue Bubblegum
ENJOY A MOMENT OF MAGIC WITH CRITERION ICES.
Criterion Ices' 130ml mini tubs are the perfect treat for your time at the theater.  Whether you're enjoying a classic performance or a blockbuster hit, our mini tubs provide a sweet taste of indulgence to elevate your theatre experience. With a wide range of flavours to choose from, you can savour your favourite ice cream while immersing yourself in the magic of the stage or screen. Criterion Ices makes every theatre visit a little more delicious.
We produce the following traditional, award-winning, fresh cream dairy ices, yogurt fruit ices and full fruit sorbets in 130ml individual tubs packed in boxes of 18.  Each 130ml tub comes with a wooden spoon in the lid.
In 2017 we launched the first ice cream tub to contain a proper full-length spoon, being 30% longer than those used by other brands.  This year, in our drive to reduce single-use plastics, we have sourced a wooden spoon to complement our tubs and lids which are already made from cardboard.
Case -18 x 130ml tub
Caramel & Hazelnut
Gold Medal Vanilla
Mint Chocolate Chip
Caramel & Hazelnut
Chocolate
Roast Coffee
Clotted Cream & Honeycomb
Sea Salted Caramel
Stem Ginger
Strawberry
Blackberry Yogurt
Alphonso Mango Sorbet
Lemon Sorbet
Plant-based Vanilla (vegan)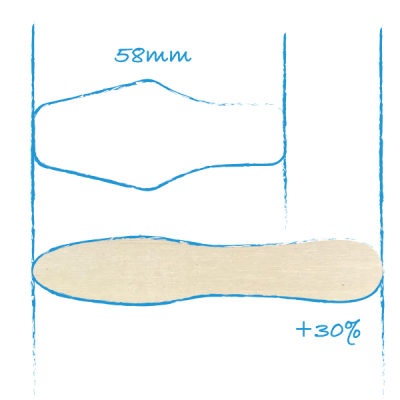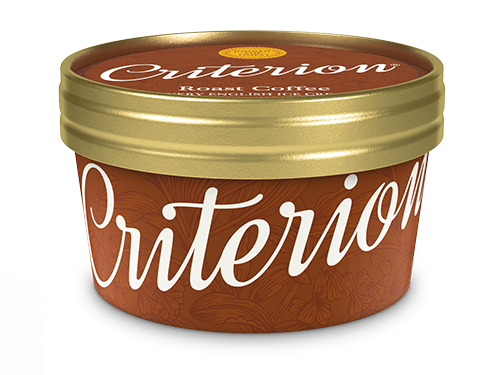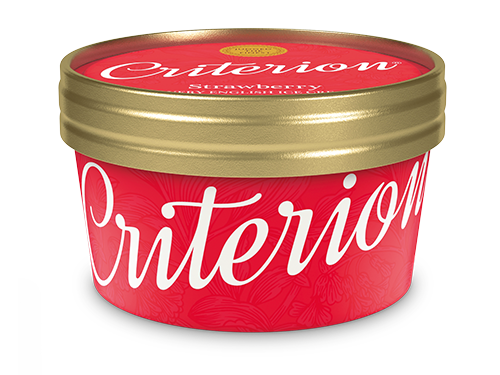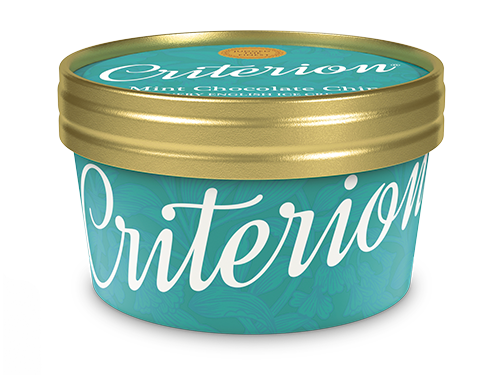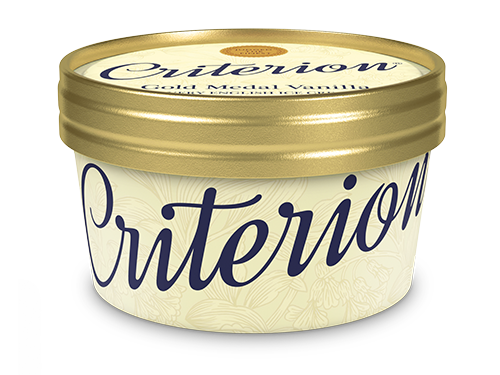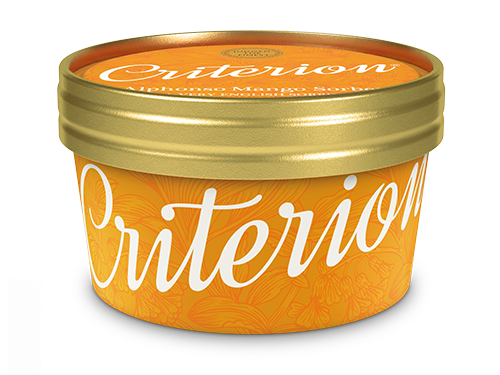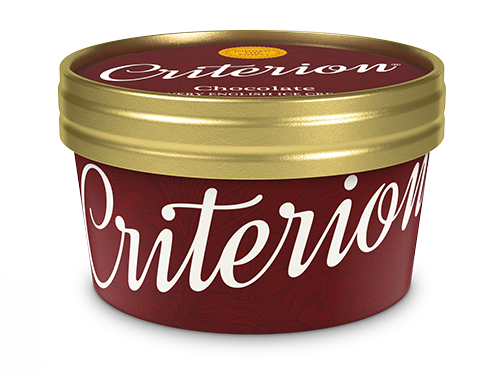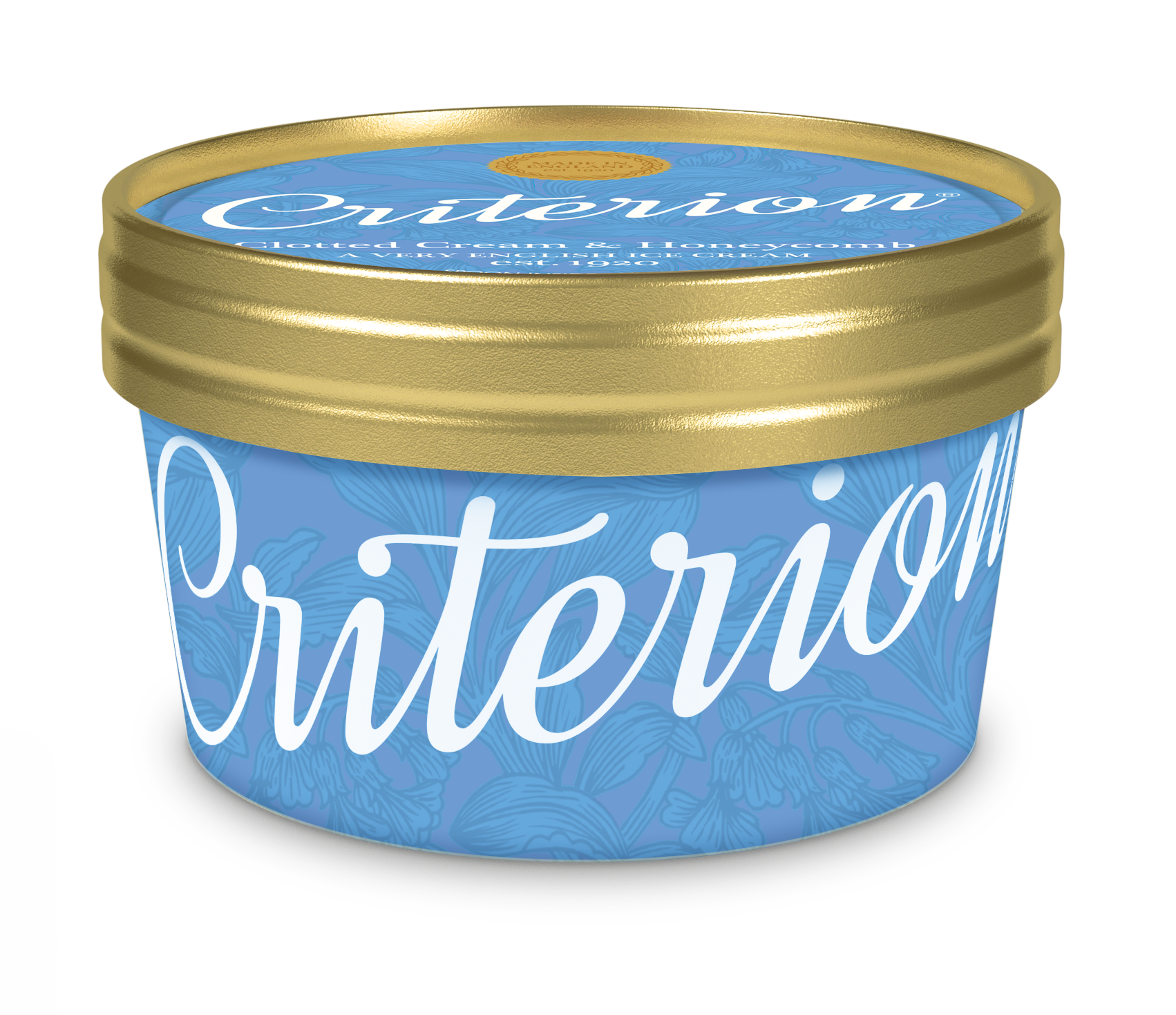 At Criterion Ices, we're not just about providing delicious ice cream; we're committed to helping our stockists boost their sales and create memorable customer experiences. That's why we offer comprehensive POS (Point of Sale) and marketing support. Our support includes everything from branded freezer deals to scooping accessories and eye-catching wall flags. We also provide bespoke packages tailored to the unique needs stockists where required. With our extensive support, you can maximize your sales potential and create an irresistible ice cream destination that customers can't resist. Your success is our success!
Contact us for further information about branded freezer deals and POS.